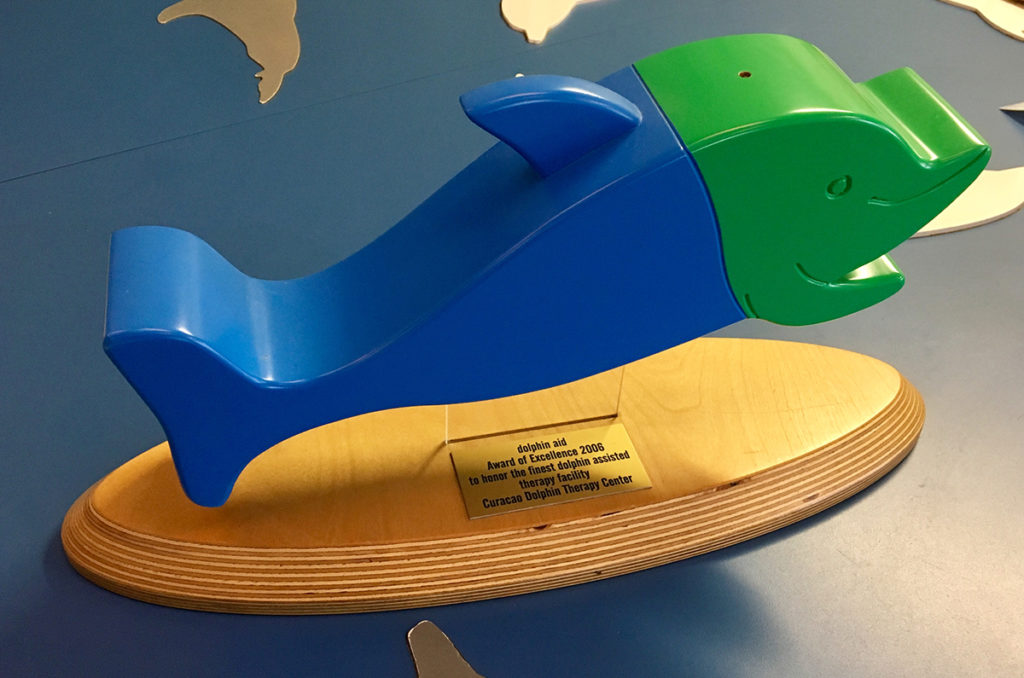 From stones that lay in your path you can build bridges....
– By Kirsten Kuhnert (Co-Founder of CDTC)
…well, the bridge naturally existed already, the one which connected the mainland with "Dutch´s" creation, the Sea Aquarium Island.
A specific handful of people, who were wildly engaged in the creation of a therapy center that the world had never seen before, also existed. In fact, we thought of everything. The tasks were divided, each and every one of us was busy working on theirs, and so the chaos took its course. 🙂
Sleepless nights, endless phone calls, meetings, training, organization, shopping, remodeling. Why remodeling? Because the facilities for CDTC had not been created yet and we opted to relocate the former photo shop of the Sea Aquarium and use its site for the first therapy rooms. So, we opted, and "Dutch" built....
The first important piece that was completed, as I remember, was this beautiful dolphin table, which became the center of the action. It still stands today in the heart of the therapist offices and has witnessed important conversations.
At some point, it must have been January 2004, we realized that we needed to find proper accommodation for those coming for therapy. In Düsseldorf, the first families were in the process of scheduling their therapies, so ironing out this necessity became essential. Luckily, the Royal Sea Aquarium Resort already existed, and we chose it as housing for the first families. That, however, would not be able to serve as a permanent solution. The apartments where beautiful and the location outstanding, but they were not truly barrier free and accessible for our patients with big wheelchairs. We racked our brains to come up with a solution, at least to find a good compromise - under time pressure as always. Time was a luxury, and we never seemed to have enough. And once again it was Dutch who came up with a practical plan. Out of 8 rooms at the Lions Dive Hotel, he made 4 apartments in basically no time. He broke down walls and broadened doors, created a handicapped accessible bathroom in each unit, and relocated the dining room to the terrace. Simply a genius....and certainly only possible in Curaçao.
So, it came to pass that the families lived next to each other and therefore came in close contact with one another. It is said that many cozy evenings were enjoyed in a big group....Piece by piece and literally stone for stone, our attempts to create a special, worry-free, and successful time for our patients progressed.