CDTC the difference

Our concept facilitates a difference in people's lives. Special-needs children and adults improve their physical, verbal and social skills and gain a heightened level of self-confidence. People suffering from trauma recover, and those experiencing a burnout relax and regroup. This is not a miracle, but the result of a tailor-made treatment program provided by a professional and multidisciplinary team of therapists and specially selected dolphins in a natural environment.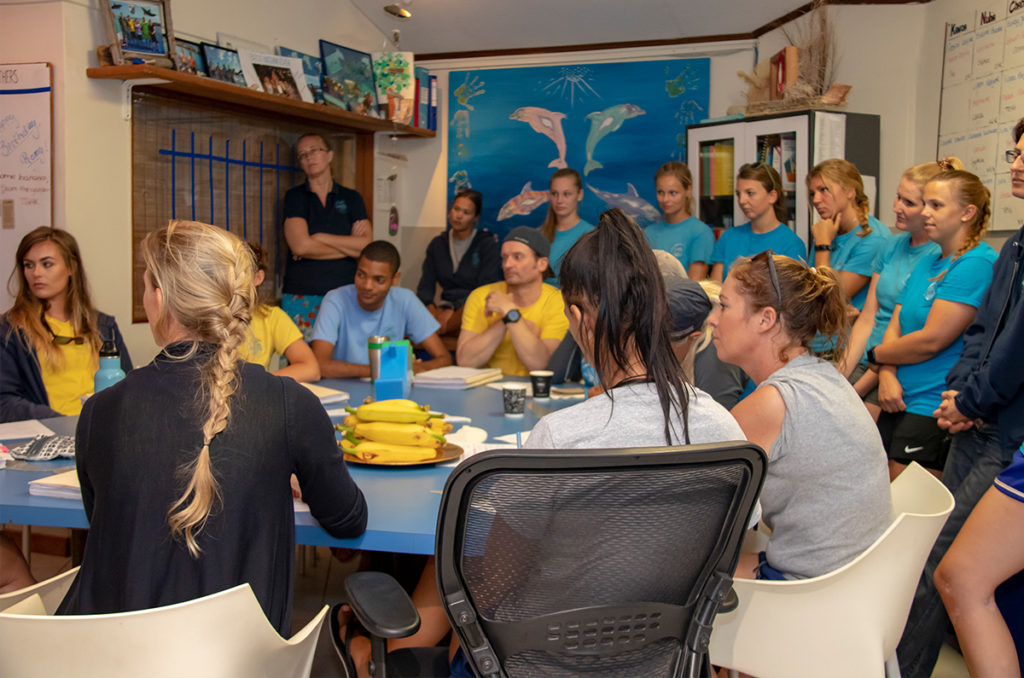 WHO WE ARE
As the leading dolphin assisted therapy center in the world, the Curaçao Dolphin Therapy & Research Center, (CDTC), was founded in 2004, located on the Dutch Caribbean island of Curaçao. We employ a group of dedicated and caring, qualified professionals, including psychologists, physical therapists, speech therapists and occupational therapists who are all highly trained in the field of dolphin assisted therapy. In the center we work closely together with a facility physician available to provide the absolute care for our patients and their families. And of course, our five amazing bottlenose dolphins who exclusively work together with our team in our ground-breaking therapy program.

WHO VISITS US
We welcome around 350 patients and their families from around the world each year. We work together with patients from 3 years and older with special needs like Autism, Asperger Syndrome, Down Syndrome, Cerebral Palsy or psychological conditions like Depression, PTSD and Mental Burnout. If the therapy is requested for children under the age of 3 you may contact us.
Our patients make real progress in their
functional development and sense of well-being

WHAT WE DO

Since 2004, we have treated thousands of patients with our personalized dolphin assisted therapy and rehabilitation programs. We offer our two-week programs in four languages: English, Dutch, German and Spanish. The unparalleled care for parents, siblings and the family as a whole, is an essential part of our therapy concept. CDTC continuously seeks to implement therapy forms that provide added value to its line of competences, such as the Brucker BioFeedback Method that requires additional qualification of therapists.
We bring success in rehabilitation to patients with
a multitude background

"Why it works"
Connecting and interacting with dolphins stimulates and rewards patients to make measurable progress.  These amazing creatures can capture a person's attention, set them at ease and offer unique forms of motivation. After a two-week program, our patients show significant improvements in their cognitive and/or motor skills. Also on psychologically level both patient and family experience a major improvement. Both would have otherwise seemed impossible at home.
We make hard work look like fun
Research confirms our results
We motivate individuals that have reached
a plateau sometimes years long in traditional therapy programs
We build self-confidence for each patient

Learn more about us
OUR BLOG
Learn more about our center and enjoy reading our blogs feature several topics amongst which our history & the creation of our concept and in the near future more stories that reflect the work behind the scenes, therapist sharing their expertise and more. Please like our facebook page in case you would like to be kept informed about our blogs. New blogs will be featured on facebook as well.
OUR TEAM
We are proud to have an international team of therapists and psychologists, well trained in their field, who work together with CDTC's therapy dolphins with a special focus on their unique characters. They are very well cared for in their natural environment. Together they work to raise the bar on standards in therapy.
THE FACILITY
The Curaçao Dolphin Therapy & Research Center has been designed to inspire people with special needs and their families and provide them with a home away from home. The center is located on an exclusive peninsula surrounded by the Caribbean Sea.