CDTC the difference

Welcome to the Curaçao Dolphin Therapy & Research Center, (CDTC), the leading dolphin assisted therapy center in the world that offers a unique and effective therapy program in a beautiful inspiring and relaxing Caribbean destination.
Dolphin Assisted therapy has long been regarded as an effective form of therapy that has helped to improve levels of cognition and mobility for people with a wide range of developmental, physical and emotional conditions. Gentle by nature, the dolphins display an extraordinarily high level of intelligence and intuition that enables them to create, what many would describe as, a 'magical' connection with special-needs patients. These therapy dolphins work together with a team of qualified therapists and trainers under supervision of a scientific advisory board, to help improve the patient's overall wellbeing.

"We believe that anything is possible"
THE THERAPY
An outcome-oriented rehabilitation program
Our unique therapy concept reflects the latest research in the field, and focuses on an outcome-oriented rehabilitation program that is customized to meet the individual needs of each patient.
THE TEAM
Together they work to raise the bar on standards in therapy.
We are proud to have an international team of therapists and psychologists, well trained in their field, who work together with CDTC's therapy dolphins that were specially chosen for their unique characteristics. Together they work to raise the bar on standards in therapy.
THE RESULTS
Provided measurably successful results
Dolphin Assisted Therapy at CDTC has provided measurably successful results for thousands of patients with Cerebral Palsy, Down Syndrome, Autism and a vast range of other disorders, as well as patients with Depression, Cancer and PTSD.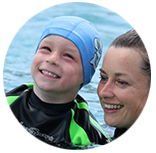 7 years after the therapy, our son is 17 years old now and did successfully finish vmbo with al good results and now it's his first year on the MBO in Naaldwijk. Would not have happened without the help of the Dolphin Therapy Center!
In 2006 and 2007 we visited the CDTC and were very satisfied. It has brought a lot to our Maximilian. If I could, I would immediately pack my bags and travel to Curacao again.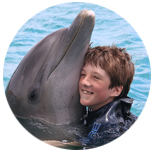 A tailor-made personal therapy schedule was set up based on my situation. Due to my physical disability I mainly experience tension and stiffness of my muscles and joints. Alongside of this I also have problems controlling my movements due to a vestibular issue. During therapy I learned to gain trust in myself and my body again and managed to relax more often.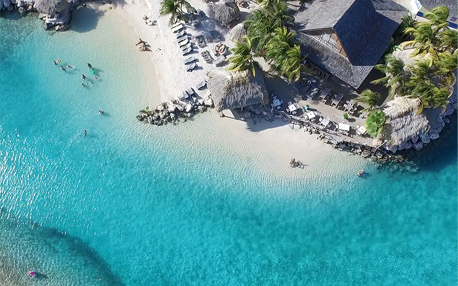 Curaçao was selected as the best location for a dolphin assisted therapy center because of its unique combination of a year-round tropical climate, rich diverse marine life that permits a natural open water environment for our dolphins, high medical standards and good international flight connections.
If you seek to find a tailor-made, intensive rehabilitation program, where the focus lies more on the strength of the individual rather than the underlining deficits, then CDTC can help achieve your goals. At the CDTC, we have created a caring and warm environment where joy is a key factor for success in professional rehabilitation and building self-confidence for every individual.